Home
Our Speakers
About Us
Our Services
Motivational Speakers Bureau
Testimonials
Our Clients
FAQ & Helpful Tips
Event Planners
Associations
Links & Resources
Booking Inquiry
Contact Us
Sitemap
Blog
Membership Program
Members Area
Click Here To Browse Our Speakers!
Inspiring Speakers Bureau




World Class Speakers. World Class Service.




Welcome to Inspiring Speakers Bureau, home of the world's best professional motivational speakers. We represent thousands of North America's leading keynote speakers, and our roster showcases the highest talent level our industry has to offer, covering a wide array of topics and fees. Since 1997 we've been bringing internationally renowned professional keynote speakers to our clients in the United States, Canada, and Europe.

We provide the ideal keynote presenter for meeting and event planning professionals, and facilitate the selection process for corporate sales conferences. Our continued goal is to help you select professional keynote speakers that best match the style and substance of your audience. Whether you are seeking professional keynote presenters for topics such as youth, Christian, celebrity, general motivation, inspirational, conference, sales, sports or leadership, Inspiring Speakers Bureau is always the best option for finding the ideal guest speaker.

Using our service has many advantages, and best of all there is no additional cost to you beyond regular keynote fees. You reap the benefits of our experience and expertise - not only with our help selecting motivational keynote professionals, but also with the eventual contractual arrangements. We have an extensive list of motivational and keynote presenter names to choose from; all professional motivational speakers and many of them household names. We represent Wayne Dyer, Anderson Cooper, Dr. Deepak Chopra, Jack Canfield, Les Brown and Robert Kiyosaki to name just a few. Please see our list of to explore possibilities for your conference.

Let Our Bureau Help You Discover The Best Talent In The Speaking Industry!

Inspiring Speakers Bureau is dedicated to helping event management teams find the best motivational speakers for a company event. Whether the purpose of your conference is to entertain, inspire or inform, our professional keynote speakers are committed to uplifting your organization.

Our bureau keeps an international database and maintains the most current information about all of our motivational keynote professionals, so you can always find the person you are requesting. Discover which of the world's best minds and most capable motivational conference speakers are right for putting your organization on the fast track to success. We always offer you multiple options for the most ideal candidate when searching for professional keynote speakers.

Our bureau also provides new and emerging speakers with the cutting-edge resources they need to become branded thought leaders and dynamic information entrepreneurs. Learn more about our new speaker representation and membership training program by clicking here.

For every type of motivational professional, whether international or in Canada and the US: inspirational, celebrity, sports, sales, professional keynote speakers, business and corporate. Inspiring Speakers Bureau will make your event a complete success every time. We always offer you support once you have chosen your professional motivational speaker by assigning a Personal Event Coordinator to ensure the event goes smoothly. Inspiring Speakers works hard on your behalf to facilitate finding the best professional keynote presenter - someone who will leave your organization feeling deeply inspired and primed for success!




Please note: Client fees may differ for engagements in Europe and Asia.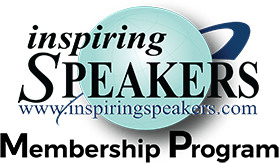 "Want Bureau Representation and 6-Figure Speaker Training? Click Here Now to Learn More!"
Our Superstar Speakers:

Dr. Deepak Chopra
Best selling author and one of the worlds top motivational seminar leaders. Deepak Chopra has written more than twenty-five books, which have been translated into thirty-five languages.
[read more...]
Anderson Cooper
Host of CNN's Anderson Cooper 360°, Anderson Cooper has redefined what it means to be a news anchor today.
[read more...]
Jimmy Carter
Former US President, human rights activist, and bestselling author of "The Virtues of Aging".
[read more...]
Les Brown
Author, "Live Your Dreams," "It's Not Over Until You Win," and "Up Thoughts for Down Times" A renowned speaker, author, and TV personality;.
[read more...]
Jack Canfield
America's Success Coach As the beloved originator of the Chicken Soup for the Soul® series, Jack Canfield fostered the emergence of inspirational anthologies as a genre – and watched it grow to a billion dollar market..
[read more...]