I'm going to assume that after reading last week's Social Media Monday post titled "Twitter 101" that you all ran off and signed up for your very own Twitter accounts.
Today let's talk about how you, as a professional speaker, can make the most of Twitter. Here are three tips for making the most of your Twitter account.
Tip No. 1: Extend your reach.
If you want to make waves on Twitter, you need to have followers. The more people you have following you, the more people you have reading your tweets. And the more people you have reading your tweets, the higher the chances that your tweets – and therefore your ideas and your messages – will be shared.
Get the word out that you have a Twitter account. Add links to your Twitter feed on your website, your blog, and your Facebook and LinkedIn pages – and to any other social media accounts you might have. Don't forget to add your Twitter handle to your email signature, too. You can also set up your social media accounts so that when you update one, the others are automatically updated as well. For instance, if you post a message on Twitter you can arrange to have it appear on your Facebook wall simultaneously – and vice versa. By synching your social media accounts, you can be sure that your message is being heard by someone, somewhere, at all times.
Now that your current contacts are covered, it's time to find new followers. One of the best ways to do so is to retweet interesting posts by people, organizations or blogs you follow. For example, last week we tweeted about an interesting post on the Ethos3 blog and tagged @Ethos3 in the tweet to let them know we were sharing it. As a result, @Ethos3 tweeted a thank you to us for following and sharing their blog. That day we found ourselves with seven new Twitter followers – most likely who found us through @Ethos3's tweet. Gaining new followers certainly wasn't our intention, but it was a side-effect that we're grateful for.
Tip No. 2: Promote yourself.
Twitter is not meant to be a tool for self-promotion. It's meant to be a method of sharing knowledge and spreading information. So if you are tweeting about yourself, be careful not to over-do it.
If you have an upcoming speaking event, feel free to let your followers know about it – even if it's an event that's not open to the public. People are naturally curious and like to know what the people they're following are up to, whether they're invited to participate or not.
And feel free to tweet about the other work you do, too. But only if it's something new or something relevant. If you've written a new blog post, go ahead and share it. If you were profiled on the news, on a blog or on a TV program, tag the program or website, and tweet your thanks for being included. If you do use Twitter for self-promotion in these ways, do so modestly and with humility. Nobody likes a braggart.
Tip No. 3: Use Twitter in your presentations.
There are so many great ways to use Twitter as a presentation tool. For starters, be sure to include links to your Twitter feed on any handouts you may have for your presentation. Your audience is a great place to look for new Twitter followers.
As we suggested in last week's post on audience engagement, you can ask your audience to tweet while you talk. Make sure to set up a hashtag related to your subject matter the day before your presentation, and then share it with your audience at the beginning of your presentation. This way they can tweet their insights and ask any questions about your presentation as it is occurring, and the tweets will all be collected in one spot. And at the end of your presentation, be sure to ask the audience to send any feedback or criticisms via Twitter.
For more ideas on how to use Twitter in your presentations, check out the guest post "7 Ways to Use Twitter to Engage Your Audience" by Olivia Mitchell on the blog Edgehopper. She has also written an eBook titled "How to Present With Twitter and Other Backchannels" which you can download for free here.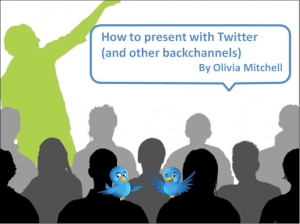 If you have any suggestions about how best to take advantage of Twitter as a professional speaker, share them here or on the Inspiring Speakers Facebook page. And don't forget to follow us on Twitter at @InspireSpeakers.
Till next time.